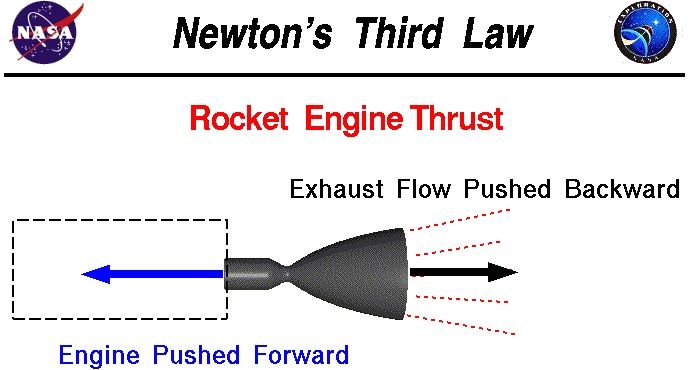 Every step you take is a tiny study in rocket science! Lift one foot and push backwards on the floor with the other. The floor exerts an equal and opposite (forward) force on the planted foot, and your body moves ahead.
Equal and opposite force pairs are everywhere. Stand on an ice rink and push against the wall; the wall pushes back, and you slide away. Sit in a chair, and your body pushes down against the seat, which pushes up with precisely the same force– if it didn't, you'd fall! Birds push down on the air with their wings, and that air pushes their bodies upward.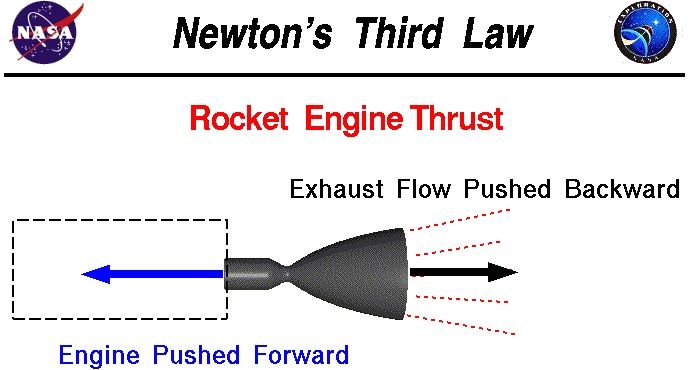 Image credit: NASA
The same process propels a rocket in motion. Thrusters shove fuel out behind a spacecraft. The fuel pushes back, equally and oppositely, and the rocket moves forward. Actual rocket fuel is accelerated backwards by explosive chemistry. We can model spaceflight in the lab with any expanding fuel whose flow can be directed.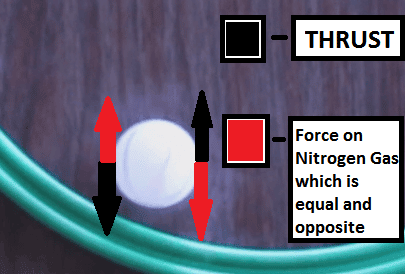 Liquid nitrogen boils into gaseous form at -321 degrees Fahrenheit. This means if it is warmer than that, it will turn from a liquid to a gas that takes up 694 times as much space. We trapped this nitrogen in a ping pong ball with two very small holes on the sides. When the nitrogen expands, this is the only way out! The holes are positioned in opposite directions on opposite sides, and as the gas is directed out of these makeshift nozzles, the equal and opposite force due to Newton's Third Law accelerates it to truly incredible speeds!
Actual rockets are meticulously designed for optimum aerodynamics and equipped with fins for stability. Ping pong balls are pretty much the opposite of that! Our tabletop rocket is all over the place. With some structural modifications, more stable motion might be possible. For now, though, we're just having fun with this nitrogen-powered turbo top!