Children are natural scientists. They're born curious about the world around them and are always asking questions. This quest for knowledge is a basic science premise. Unfortunately, this natural interest decreases during the teenage years as children start to consider science boring.
But we have good news! There are plenty of ways to foster an interest in science for pre-teens. And you don't need a degree in science to do it. All you need is respect for your child's curiosity, a willingness to satisfy that curiosity, and a positive attitude about science.
Here are a few fun ways you can bolster your child's passion for science.
Rent Science Books for Kids
Your local public library, or your child's school library, is sure to have a section that's chock-full of engaging books about their favorite subjects. Ask them what they're most excited about, and go on an adventure together to the public library to check out a few books.
If your child doesn't have one already, giving them a library card could be life-changing. Most library cards are free, and with one, you'll be giving your child a wealth of knowledge. You can help steer them to the right section of the library—by teaching them the Dewey Decimal System, a skill they'll use forever—and let them loose among the bookcases. This autonomy to choose their book will foster a deeper sense of curiosity as they scour the shelves.
Encourage At-Home Science Experiments
There are plenty of at-home science experiments for kids that you can do with them or they can do on their own. If your child reads about an exciting experiment in one of their library books, encourage them to give it a try! Bonus: Since they'll most likely be reading books that are meant for kids, the experiments won't be too crazy, so you don't have to worry about kitchen explosions.
You can also search the internet and YouTube with them to find at-home experiments. Searching with your child has many benefits:
You can be a filter as to what experiments are chosen, making sure it's age-appropriate and doesn't require expensive ingredients.
And you can teach your child basic internet safety. By searching with them you can explain what makes a reputable website and source and that not everything on the internet should be taken at face value. This will set them up for future success.
Simple At-Home Science Experiments for Kids
Here are a few experiments that you can do at home today:
Bake a cake! Talk with your child about how and why the cake rises and that baking is simply science, but extra delicious.
Start a garden. Seeing plants grow can plant a seed in your young biologist's curious brain.
Observe the changes in the moon. Looking at the sky can be just as fun as playing in the dirt. Watching the moon, documenting its changes, and reading about the different constellations are easy ways to keep your child interested in science.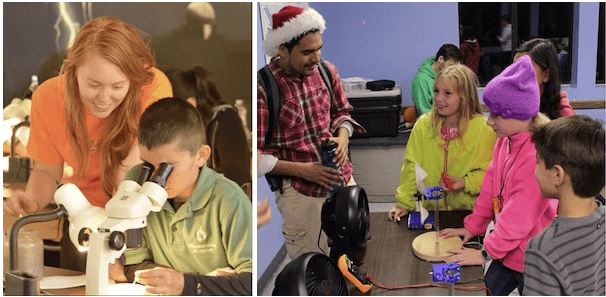 Explore Local Science Museums for Kids
Your town or neighboring areas are sure to have some type of science museum: a planetarium, kids science museum, zoo, botanical garden, nature center, or aquarium. These places engage children in dynamic science experiences and put them front and center of their favorite topic.
Be sure to check out your local museum's website to see if they have events tailored to children or if they offer free admission days.
Send Your Child to Science Camp
Museums aren't the only place your child can be knee-deep in science fun. Kids' science camps are a wonderful way to have them explore exhilarating experiences under the watchful eye of camp counselors.
AstroCamp is a science and adventure summer camp for kids between 8-17 with one or two-week sessions, or for a week-long "Geek Week" session. Here, your child can explore electricity in our Magnetism Lab, visit the Telescopes Viewing Center for a peek at the night sky, or build their own robots. They'll do all of this and more in a classic camp environment with additional cool outdoor activities.
If your child is more interested in the creative side of science, Geek Week is the perfect pick. During this week-long session, campers dive deeper into some of the most popular creative-based activities at camp: 3D printing, animation, metalsmithing, and live-action role-playing.
We at AstroCamp are excited to help your child continue their science fascination, and are happy to answer any questions you have. And there are still openings in our 2022 camp sessions. Check out the dates and rates for both our one-week and two-week sessions—be sure to enroll fast, we already have a few waitlists!