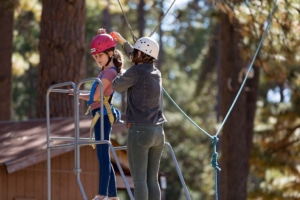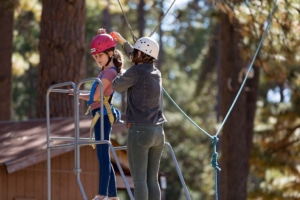 Our 26th President, Teddy Roosevelt, once said of his time as a frontiersman, "I have always said I would not have been President had it not been for my experience in North Dakota." Roosevelt's adoption of a strenuous lifestyle early in his childhood, carried with him throughout his life, is pointed to by the man himself, and historians, as one of the defining reasons for his success.
Today though, unlike in Teddy's time, there are so many distractions and roadblocks to kids getting outside and experiencing the transformative power of the outdoors. Smartphones, streaming services, and social media apps, all encourage a sedentary lifestyle in our kids.
So, how can parents help guide their children towards a more active lifestyle that helps them build better and more positive habits? The answer is outdoor adventure education! And it has more benefits for your child than you might realize.
What is Outdoor Adventure Education?
Outdoor adventure education is a direct, active, and engaging learning experience that takes place in nature and involves kids participating in activities that include a certain amount of risk and challenge, such as rock climbing in California's San Jacinto Mountains, or mountain biking through the many trails of Idyllwild. 
Primarily experienced in a group, outdoor adventure education develops interpersonal and interpersonal relationships and promotes personal growth while enhancing physical skills.
As opposed to kids sitting inside a classroom or a daycare, they're brought outdoors to take part in activities like geocaching, which simulates the risks of adventure through the San Bernardino landscape. Instead of sitting idle at a desk or behind a screen, kids are put into situations that challenge them both physically and mentally, pushing them out of their comfort zone and past what they believe their limits to be.
Why it's Important
Numerous studies have been conducted on the benefits of outdoor adventure education for children, and the results are every parent's dream. Not only are kids more enthusiastic about learning outdoors because of how fun the activities are but, that enthusiasm translates into amazing results.
Improves School Performance
Studies have shown that kids who participate in outdoor education programs have an overall enhanced achievement, including better test scores, a better attitude towards school, and a better attendance record. The reason is that outdoor adventure education utilizes a greater range of the child's intelligence.
Improves Health
This probably goes without saying but, kids who learn outdoors tend to be healthier than kids who spend a majority of their time indoors. Being active outside increases children's physical and social health, while also helping them form healthier habits that continue long after they've left summer camp.
Supports Child Development
Outdoor adventure education supports emotional, physical, and intellectual growth in children, instilling in them a "can-do" attitude that they can apply to all aspects of their lives. They develop a better sense of self, which allows them to better manage fear, stress, and anxiety, as well as instilling in them a sense of determination and a desire to succeed.
Set Your Child Up For Success at AstroCamp
For many parents, the thought of their child spending their summer vacation glued to the tv or their computer, wasting their days playing video games, or mindlessly scrolling through social media is a worrying one.
At AstroCamp, we promote an active curriculum with an emphasis on outdoor education, which gets kids outside and interacting with nature. We push our campers out of their comfort zones and encourage them to push past their limits. We take pride in offering a variety of activities like rock climbing, mountain biking, and archery that help campers learn new skills, have fun, and grow as people in a safe environment.
Reach out to our team to learn more about what adventures await at AstroCamp to help mold your child into a better version of his or herself.