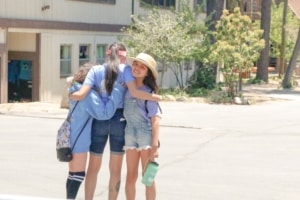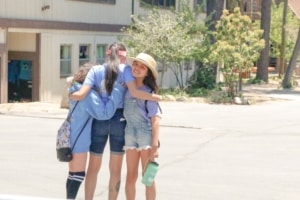 Sleepaway camp is an exciting experience. But, if it's your first time, it can also be a little intimidating. What do you pack? Can you call home? What will the other campers be like? We're sure you have a bunch of questions. In the following blog we're going to give you a rundown of the important things to know before your first night at camp. 
Pack For the Environment and the Weather
When packing for camp your first inclination will be to pack your nicest clothes so you can dress to impress. While we don't blame you, take a second before you do. You're going to be outside in all sorts of weather for up to two weeks in Idyllwild. You don't want your best clothes to be ripped, torn, or stained.
You'll want to pack clothes that are tough and durable, but that you'll still feel comfortable and confident in. Make sure you also pack a variety of clothes for camp weather, so you're prepared for rainy days, sunny days, and cool nights.
Short and Sweet Goodbyes
When it comes to saying goodbyes after you're dropped off at camp, try to get mom and dad to keep them short and sweet. The longer parents linger, the harder it tends to be to say goodbye for both you and them.
So, let them come to see your bunk, let them help you unpack, and then say your goodbyes. Then you can start meeting the other campers you'll be spending part of your summer with. It might be hard at first, but it'll make things a lot easier for all of you in the long run.
Contribute Money to the Camp Store
Many overnight camps have a store that campers can buy snacks and candy from. One of the best things about camp stores is that mom and dad can add money to a store account so you don't have to carry around a pile of cash with you while you're hiking or bouldering in the San Jacinto Mountains.
Ask one of your parents to get in touch with the camp director to see how much money parents usually contribute to the account, and ask them to contribute roughly that amount. You've gotta have a stash of snacks in your bunkhouse. It's practically a summer camp tradition!
Communication
Homesickness is bound to kick in. It's completely natural. Have mom and dad find out what the policy for communication is when it comes to emails, phone calls, or letters. Are you allowed a certain number of communications? If so, how many emails, calls, or letters are allowed?
Being away from home, even just for a week, can be tough if it's your first time. So when you do need a couple of minutes to reconnect with your folks back home, you'll know the best way to get in touch with them. Though we're sure you'll be having such a good time, they'll be trying harder to get in touch with you than you will with them!
About AstroCamp
AstroCamp mountain adventure and science summer camp is for kids and teens ages 8-17 who love science and space exploration. We always ensure our campers have a fun, engaging, educational, and above all, safe time.
Our campers and staff's health and safety are a top priority. Learn more about our COVID-19 protocol this summer or reach out to the team for more information on AstroCamp's summer programs.