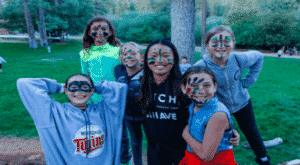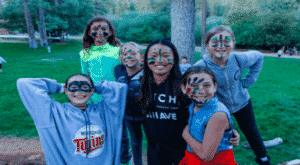 Here at AstroCamp, in addition to giving our campers opportunities to explore their interests in science and space, we also provide opportunities for self-exploration. Encouraging our campers to think outside the box, collaborate, and trust themselves gives them the tools necessary to build confidence and boost self-esteem. Read on to learn more about our favorite summer camp activities for building confidence and boosting self-esteem.  
1. Building and Launching Rockets
Constructing and successfully launching a rocket is a task that takes diligence and passion for the process! The process of building and launching rockets has been shown to enhance children's academic achievement and social development and offer practice in cooperative learning, collaborative learning, hands-on projects, and inquiry-based learning activities.
Not to mention when you tackle a challenge and succeed, nothing feels better, and we're lucky enough to witness these confidence boosts daily during AstroCamp.   
2. LARPing
LARPing stands for Live Action Role Playing and is an excellent way for kids to practice and improve their social skills. LARPing is offered as an elective activity during our camps and has been shown to help our campers get out of their comfort zones and connect with others. 
LARPing also proves to enhance children's ability to empathize and support one another. This is beneficial in the world of science, but it is also crucial in everyday life. These skills allow a child to feel more comfortable with themselves and others, boosting their confidence.
AstroCamp offers LARPing as camp electives during both their One-Week and Two-Week camps.    
3. Archery
Archery is definitely up there as one of the rather daring summer camp activities. Still, this venture teaches children to trust others, but most importantly, trust themselves — which is the key to confidence.
AstroCamp offers archery as an activity during both their One-Week and Two-Week camps.  
4. Wilderness Survival 
Children will experience a surge in confidence knowing that they acquire the skills necessary to take care of themselves. Children take great pride in doing things for themselves, whether they're learning how to tie knots, identify plants, or build shelters.  
Did you know that AstroCamp offers Wilderness Survival as part of their Two-Week camp itinerary?  
5. Team Building
Something that all of the above-listed activities have in common is that they are best done with a partner or team! Here at AstroCamp, we want our campers to make connections that last a lifetime, so all of our activities are centered around the collaboration and teamwork of our campers.
Working in supervised teams means that your child's voice is heard. And when kids understand their voices are respected and valued, they gain the self-confidence they need to carry them through their relationships with others outside of camp settings.
About AstroCamp
AstroCamp is a mountain adventure and science summer camp for kids and teens that offers an unforgettable educational camp program for 8-17-year-olds who love science and space exploration. Set among the gorgeous pine forests of the San Jacinto Mountains of California, AstroCamp will open your child's eyes to the excitement of exploring science and mountain adventures. Our 2022 summer enrollment is now open! Don't forget to sign up before January 31st to take advantage of our early bird incentive rate.
Think that AstroCamp is a good fit for you or your child? To learn more, read about our camp program options and explore life at camp!